OPPORTUNITY TO PARTICIPATE
Canadore College and WE are excited to announce a new partnership which intends to create a learning community focused on supporting leadership development both on campus and within the local and regional communities. The leadership program will bring students together from different cultures and empower them to become better local and regional citizens. We are currently seeking students that would like to participate in the leadership program.
WE'S TRANSORMATIVE ACTION
WE brings over a decade of successful youth development experience to our programs which incorporate a variety of social justice themes to facilitate development of leadership skills and global competencies including critical thinking, reflection, argument formation and action planning.
OUR LEARNING FRAMEWORK
You will participate in simulations, team challenges and discussions to discover new information and different perspectives. This process is defined in our Theory of Change, and it applies three key focal points to guide participants in the exploration of leadership development, social justice education, and civic duty. The focal points are: issue education, skill development and action planning.
PROGRAM OUTCOMES
Improve participants' leadership skills to become active agents of change within campus and broader community
Develop campus-and-community development action plans and create positive change
Develop student leadership capacity
Canadore College has been working closely with WE to develop custom modules and case studies for the program that are reflective of Canada's diverse cultures, traditions and knowledge, and will cover additional themes like anti-bullying, creating a caring and positive campus culture, active citizenship and more.
OUR FACILITATORS
ME to WE's programming is delivered by a team of passionate individuals who are committed to empowering young adults to make a difference in their local and regional communities.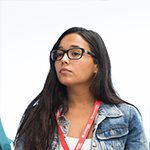 Eleisha Collins - Senior Leader
Meet Eleisha Collins, from Barrie. Eleisha is studying Respiratory Therapy after studying nursing for a few years, inspiration struck from the clinical role of a respiratory therapist. Wanting to study at Canadore was solidified after attending an open house, "everyone was so friendly and welcoming, it felt like home from that day. It's also close to my family!" Eleisha wanted to join the WE Leadership program because "it will help me gain more confidence in my leadership skills." Through the WE Leadership program, "I hope to gain more confidence in being a leader, and be able to work with a good team to make a change at Canadore and in the community."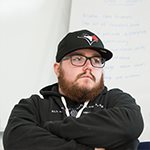 Brad Laughlin - Senior Leader
Meet Bradley, from Bracebridge. Brad is a graduate from the Recreation and Leisure Services and Strength and Sport Conditioning programs and is currently starting the Business program. Brad enjoy hanging out with friends, playing video games and weightlifting. The choice to join the WE Leadership program came from wanting to "better myself and better others. I have always wanted to show positivity in my life and other people's lives as well. I feel that growing strong leaders will lead to a greater community of like-minded individuals." Through the WE Leadership program, "I hope to build more diversity among other students and show others that they are able to create change and stand up for what is right."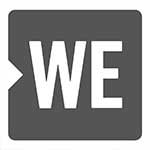 Josée Lefebvre - WE Canadore Student Assistant
Meet Josée Lefebvre, from Astorville, Ontario. Josée is studying Dental Hygiene, and chose Canadore because it is located near her family and she heard great things about the program. In her free time, Josée plays music, draws, writes and plays sports. Josée applied for the WE Leadership program because she's been involved with WE multiple times and really admires what the organization stands for. Josée hopes to use her time with the WE Leadership program to make an impact in her school as well as her community.
Stay Tuned. We are in the processing of recruiting our Me to WE Canadore Leaders.
Alumni
Tessa Alyman (2017.18)
Isabelle Amyotte (2018.19)
Bridget Anca (2017.18, 2018.19)
Allison Armstrong (2017.18)
Emily Ayotte (2017.18)
Trevor Beard (2017.18)
Sylvie Beaulne (2017.18)
Heather Bonney (2018.19)
Nick Chaisson (2017.18)
Julia Champoux (2018.19)
Robin Chokomolin (2017.18)
Eleisha Collins (2018.19)
John Cooper (2018)
Olivia Doucette (2017.18)
Sarah Duquette (2018.19)
Amanda Gambell (2017.18)
Tiffaney Ganci (2018.19)
Brianna Gardner (2018.19)
Kathleen Garvey (2017.18)
Mikaela Goertz (2018.19)
Jason Harris (2017.18)
Tori Hawke (2018.19)
D'Shawn Johnson (2018.19)
Shawn Jones Jr. – Senior Leader (2017.18, 2018.19)
Bradley Laughlin (2018.19)
Josee Lefebvre – Senior Leader, WE Canadore Outstanding Senior Leader Award (2017.18, 2018.19)
Justin Leybourne (2018.19)
Madie Mancini – Senior Leader, WE Canadore Outstanding Participation Award (2017.18, 2018.19)
Ryan Mason (2017.18)
Molly McNamara (2018)
Toddrick Metzger (2017.18)
Sharmarke Mohamed (2018.19)
Sarah Moyer (2018.19)
Conor Nesbitt – WE Canadore Outstanding Leader Award (2018.19)
Adele Orr (2017.18)
Jaclyn Paddison (2017.18)
Zoe Prest (2017.18)
Shane Pringle (2018.19)
Angela Proudfoot – Senior Leader (2017.18, 2018.19)
Mark Reed - WE Canadore Outstanding Leader Award (2017.18)
Jenny Smith (2018)
Chantel St. Amour - WE Canadore Outstanding Leader Award (2017.18)
Dorwin Strang (2018.19)
Ursula Ullrich (2018.19)
Alia Woodward (2017.18)